Melville family from The U.K.
visit with the Lemar Family in Oregon

From left to right: Christopher Melville (14 w/c), Sarah Lemar (22 w/c),
Greg Melville (18), Katie Lemar (20 w/c), Hannah Lemar (7) and Josh Lemar (10)

1st April, yes I know April fools day, only the Melville's could have chosen such a day to fly to the NW of America. After nearly a day of travelling we eventually met with the Lemar family. Jane and I had been emailing and phoning each other for two years and had decided enough was enough and we must meet. My kids, Chris and Greg were very upset because they were expecting sun, sea and Mickey Mouse and instead got rain, storms, snow, Dave, Jane, Sarah, Katie, Josh and Hannah - won't tell you who resembled Mickey Mouse!!!!!
The whole experience was out of this world - Oregon is so beautiful and the people so friendly; although extremely taken back by our Brummie accents (Brummie's are people who come from Birmingham, England). Jane did comment how much like Ozzy Osborne we sounded - yes, taken as an insult! We can't all speak like the Queen.
The Lemar family made us extremely welcome. Sarah and Katie could quite easily have been Christopher's big sisters - so alike, not just in looks but character too. We visited some great places, ate out at some weird places too and came back each weighing 14lb heavier. We were worried they wouldn't let us on the flight home, or perhaps even charge us for excess baggage!!!!

We spent some time visiting some places, waterfalls that just seemed to start from nowhere and were never ending. We travelled to North California and saw the Redwoods and drove through the 'Drive through tree'. The Redwoods were so big, (understatement of the year) I was waiting for a dinosaur to jump out. Creepy but spectacular. Jane and Dave arranged a BBQ and invited just about anyone and everyone and I'm sure they only turned up so they could say they have friends back in the UK.
The worst thing about America was in our second week when we all got bad colds. Your viruses nearly killed us!!!! I have never felt so ill and just try flying with the air pressure when your ears and nose are already blocked. It took 2 days before I could hear again.
Can't say I would visit again, nothing against the place or the company, but I could never do those flights again. Although don't we say 'never again' after giving birth???!!!
Looking forward to the Lemar family coming here and then we can show them the whole of the UK in 2 weeks, where we would have needed a couple of years to travel round the whole of the USA.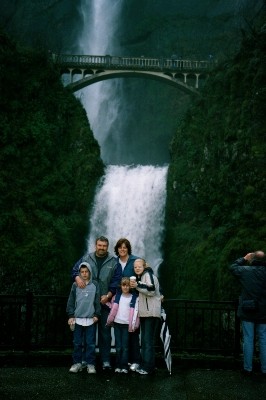 Julie, Mark, Greg and Christopher Melville
Birmingham, England