THIS IS MY STORY

By Kelly Horvath
"I was 8 pounds 3 ounces and seemingly healthy when I was born. My parents were thrilled. They got the little girl they always wanted. "
Hi my name is Kelly Horvath, and by the time I was six months old, my Mom knew something was wrong with me. I was very listless, didn't eat well, and had a lot of projectile vomiting. The pediatrician had an answer for all my mom's concerns. He always told her there was nothing wrong, that she was just being a nervous new mother.

When I was 13 months old, I had a bad cold and was really sick. My parents took me to the emergency room thinking they could finally have me checked out good. I was so malnutritioned and ill, I was taken away from my parents and they were accused of child abuse. When that was finally straightened out, I was so ill from lack of kidney function the doctors told my parents I may not live through the night. I was sent to Ann Arbor Children's Hospital. After months of tests, I was diagnosed with cystinosis. Mt parents were told to enjoy me because I wouldn't live to see kindergarten. My kidney function was down to 20% and I would eventually need a transplant. Well, aside from blood tests, horrible medicines, weak bones, lots of blood transfusions, and very sensitive eyes, things held up pretty well. I was able to be a fairly normal child. I did live to see kindergarten. I did well in school and had a lot of friends.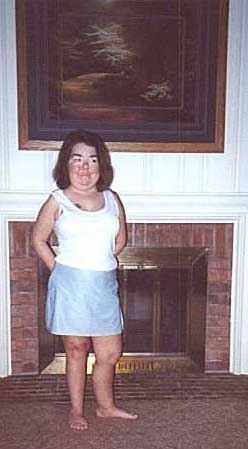 When I was in sixth grade the time came for a transplant. I was lucky. My parents were tested and my father was a perfect match. I got my new kidney and everything went well. I made the cheerleading squad and cheered sixth, seventh, and eighth grade. It was really fun. I was the smallest of course so I got to be at the top of all the mounts.

It was pretty scary starting high school but everyone treated me really well. The spring of my freshman year, I had a stroke. This wasn't due to the cystinosis in any way. I lost the total use of my right side. Even my speech. The physical, occupational, and speech therapy was hard, but I got everything back. I even had a home tutor so I could go on to my sophomore year with my class.

When I turned sixteen, of course I wanted to drive. My parents found extenders to put on the pedals of the car they bought me. All I ever wanted was to be normal and average but at four foot it was sometimes hard. After I made it through high school, I went on to a community college and received a two year degree in business. It was hard to work because I had many doctor's appointments and didn't always feel well.

I wanted to move out on my own but couldn't afford it on the amount of SSI I got. I couldn't work enough to make up the difference between an SSI check and paycheck. My brother came to my rescue. Dan had always told me when he graduated from high school and could get a good enough job, he would get us an apartment so I could feel what it was like to be out of my parent's house. Well, when he graduated he got into Chrysler. We got a two bedroom apartment. He worked and paid the bills. I did the shopping, cleaning, cooking, and laundry. But after a year and a half, he fell in love. After a while Dan and his girlfriend got their own place and I had to go back home.

A short time after I moved home, my health started going downhill. After fifteen years my kidney was failing again. Within eight months of moving home, I was put on dialysis. I was very sick and didn't want to live like this. So again family members were being tested for a possible kidney transplant. My brother and sister were asked if the would be willing to be tested. Neither one of them hesitated. Dan to the rescue again! He was a perfect match. I was in my room taking a nap one day when Dan and my Mom came in and woke me up.
"I have something for you" Dan said. "How would you like a new kidney?" he asked. I was still not awake and didn't hear him right. "I don't want a kitty!" I said. Dan's girlfriend Jackie had come in I noticed. All three of them were crying. "Kelly, Dan's a perfect match," Jackie said. "He's gonna give you the kidney." It took months of tests and preparation. The surgery was even scheduled and postponed once. On May 3, 2001, we were both wheeled back into surgery. I had a rough recovery and hit a few bumps in the road, but as always I fought hard and recovered well. Dan was off work for seven weeks, but he is doing great too.

Now I am 28. I would like to work part time but it messes up my SSI so much it isn't really worth it. I am in the process of waiting for housing assistance so I can move out on my own. In the meantime, my parents watch over me. My Mom and I go shopping and out to eat every Saturday. I love playing with our golden retriever, Casey. He thinks he is a 75 pound lap dog! I have a 16 year old sister who I enjoy very much. I didn't do much socially in high school because I was always sick. I like watching her grow up, go on her dates, proms, homecoming, etc. I just get used to one boyfriend and she has moved on to a different one.

If Dan's kidney lasts as long as my father's did (15 years) I'll be so happy.



Anyone who wants can email me at kelly072974@aol.com I would love to hear from you.
Kelly Horvath